WHAT ARE REVIVALS GOOD FOR?
In this video, I describe the value of transformational Revivals, a piece of our history that has been terribly neglected by most historians–and as a result, most Christians are unaware of the importance of the great outpourings of the Holy Spirit. And as a result most Christians have not prayed for future outpourings of the Spirit. It is an area of blindness.
And while I'm at it, let me announce the first of several book-signing events I plan for this summer, to celebrate the publication of Glory Through Time, Volume Two: The Forgotten Legacy of Transformational Revivals. It will take place this Sunday June 4th, 2023 at my home church, The River Church in Toano, Virginia. It will be just after worship at about noon. I will have all my books available as well as my stoneware pottery (Doug's Mugs). The River Church Toano is at 8824 Richmond Rd, Toano, VA 23168.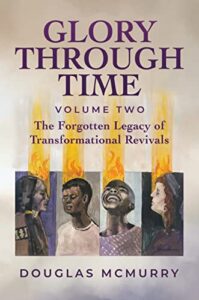 If you live in the area, I'd love to see you.
If you can't make it, there will be other opportunities later in the month of June. In fact, if you would like to host a book-signing event and you live in Virginia, let me know of your interest.
I have also scheduled a second event at The BARN – 800 Broad St Rd, Manakin-Sabot, VA 23103 (Goochland, Virginia) Wednesday JUNE 14th, at 6 p.m., hosted by my friend, Rob Rhoden.
Anyone else?
Sincere Thanks,
Doug
Podcast: Play in new window | Download