We believe that God has led us to Charles City to build a prayer center in one of the most historic places in the nation.
| | |
| --- | --- |
| | Here we will maintain consistent prayer watches, aimed at inviting spiritual awakening and the healing of the land. |
| | Here, too, we will invite people to take spiritual retreats, during which they can "get into the clear with God." |
| | Finally, at The Clearing, we hope to offer teaching and encouragement in the area of prayer and the life in the Spirit. |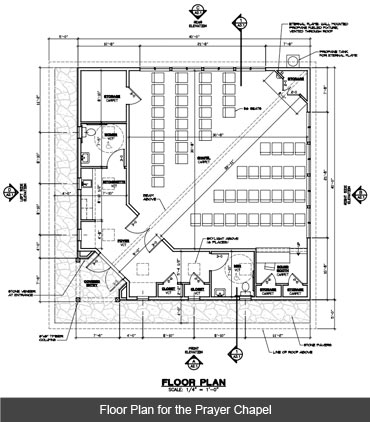 Our goals in property development are as follows:
| | |
| --- | --- |
| | A prayer chapel for prayer, worship and thanksgiving, 24/7. |
| | A teaching facility separate from the chapel, to include office space. |
| | Temporary housing units for private retreats (cabins). |
Our Number One priority is to build the House of Prayer. Below is our initial floor plan, as designed by our friend, Mark Evans.